Your adventurers can travel throughout many realms seeking fame and glory. Mix magic with technology; explore any worlds you can imagine.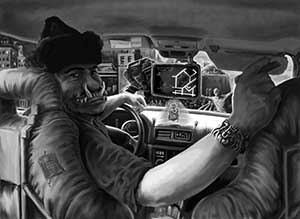 Neverwhen is designed to allow gamemasters and players to combine any of their favorite genres into the campaign. Neverwhen is more than a toolkit, including a rich history and storyline that can be incorporated into any campaign. Tie adventures together with a companion that allows you to bring sword and sorcery, science fiction, space travel and soon, Mechs! Explore Post Apocalyptic worlds and places were technology and magic meet. Journey through the gates to the city of Manzala and the universe of Neverwhen.
Neverwhen includes
Complete rules for playing interesting new races
Dozens of new prestige classes.
Enhanced combat system that includes rules for automatic weapons, explosives and vehicular combat.
New and revised spells for the new classes Techno-Mage and Trans-Dimensional Magi.
New and revised creatures that travel through the realms. ... and much, much more!
"Have you ever wished you could be a Wizard but also a shoot big guns, and maybe fly around in a space ship with your large metal best friend? Do you dream of rescuing the princess and kicking some troll behind... Read More
"...all the while finding gold and gems and rare magical items, while also acquiring an AWSOME gun collection ( think laser pistols, OMG, I love laser pistols!)? If you think that you would enjoy fighting a dragon one day and a space pirate the next, then do I have the game for you!

Neverwhen from Dragondyne Publishing gives you all of this and more. I had never played an RPG before so when I was invited to play Neverwhen the first time I was not sure what to expect. I knew what Role Playing games were of course, I have friends that had been playing them for years, but I never thought I would like to play. I am not much of a joiner and these games are kind of a "team sport". I decided to play as a favor for a friend more that because I really had any desire to play. I showed up for my first game, sat down at the table and was handed a rule book and character sheet. When I asked what to do, I was told to look at the book and decide what I wanted to be. Of course I had people helping me understand things like Stats and Feats, and other things that were foreign to me, then I found the Elves and fell in love. At first I created a character that was a lot like me, not very outgoing, and just following the party around, doing what she was told to do. After a few gaming sessions though, I found that my Elf started coming to life. She learned with me and soon was doing more than just following, she starting being in the mix, giving opinions, and feeling like a part of the team. Then, my humble woodland elf learned how to shoot a sniper riffle!!! Her bow and arrows could not compete. She was a Scholar, and her whole reason for adventuring was to collect books, but then she learned how to summon and control Elementals! OMG, MAGIC!! Her desire to collect books did not diminish, but it was not her only reason to travel anymore, somewhere along the line, our party acquired a space ship, and literally, the stars were the limit! It didn't take me long to get hooked.

" That was 9 years ago and I have played several different races and classes since then, but you never forget your first. I have played other games of course, but Neverwhen will always be "my" game. "
-S. Turnley, Seatac, WA
We would like to thank the following people for helping out Manzala Rangers for Norwescon. We couldn't have had our book launch without them, or you!
Ronnie Mason
Mark Hanington
Greg Hallock
Michael White
Josh Brunner
Christine Gouldman
Greg Okubo
Elspeth Gotz
Samantha Gracie

MP Ella Williams
Michael Citrak
Gene Armstrong
Stephanie Magat
Ed Steever
Michael Hanscom
Marvin Johnson
Matt Dinniman
Carlos Lopez

Dave Ashcroft
Krystal Paulson
Tamera Lawrence
John Lovett
Dan Tabaka
Cajun Bauman
Chris Knoke
Shawn Marier
and …
two Anonymous donors.

Without you, we could not have had our space to hold the book launch for Neverwhen Mecha!
-Rhiannon "Gibbitt" Rhys-Jones, SheriAnne Turnley, and Dustin Gross
---
Dragondyne has a new artist!